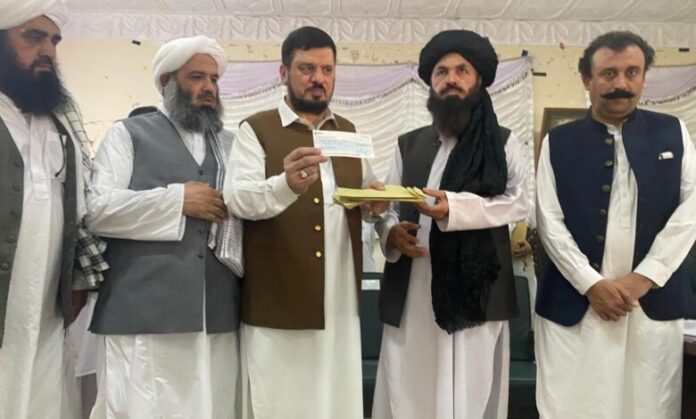 Governor Khyber Pakhtunkhwa, Haji Ghulam Ali, announced financial support of 20 lakh rupees per person to the families of those who lost their lives in the Bajaur blast and 7 lakh rupees per person to the injured.
A ceremony was organized at Civil Colony Khargarh Hall in memory of the martyrs, attended by Maulana Fazlur Rehman and Governor Haji Ghulam Ali.
During the event, Maulana Fazlur Rehman stated that they are engaged in a peaceful political struggle in the country and have no enmity with anyone. He strongly condemned the explosion at the Jamiat Ulema-e-Islam workers' convention in Bajaur.
Also Read: Chota Dubai: Ajoon Kaly's Notorious Global Drug Empire!
Maulana Fazlur Rehman questioned why their scholars are being martyred not only in Bajaur but also in other regions. He expressed concern over the oppression faced by Pashtuns in Sindh and emphasized that such acts cannot demoralize them.
He highlighted the international condemnation of the incident and expressed sorrow over the loss of innocent lives. Maulana Fazlur Rehman invited various leaders, including former Governor Engineer Shaukatullah Khan Samit, to participate in a Pashtun Jirga called yesterday.
Maulana Fazlur Rehman announced financial assistance of Rs 5 lakh each to the families of those killed in the Bajaur suicide attack and Rs 3 lakh each to the injured.
Governor Khyber Pakhtunkhwa also extended support, announcing Rs 2 million for the families of those killed and 0.7 million for the injured in the blast.
It is noteworthy that the suicide blast at the workers' convention of Jamiat Ulema-e-Islam in the Khar area of Bajaur on Sunday, July 31, resulted in 56 fatalities and over 100 injuries.
Hits: 8