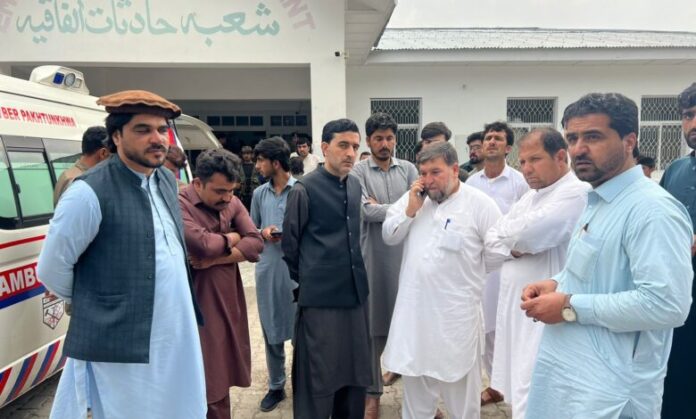 A group of unknown individuals, on Thursday, attacked Tari Mangal High School in the Upper Kurram area of Khyber Pakhtunkhwa, killing seven people, including five teachers on examination duty, and two workers.
The victims were identified as belonging to Tori Bangash tribes and were performing examination duty at the school. The deceased were identified as Mir Hussain, Jawad Hussain, Naveed Hussain, Jawad Ali, Muhammad Ali, Ali Hussain, and Muhammad Sharif.
The police reported that the armed men opened fire after entering the school premises.
Also Read: DI Khan: A DSP injured in attack, two attackers killed in retaliatory Action
Prior to this, a teacher was also shot dead in a moving vehicle in Para Chinar. Muhammad Sharif, the teacher who was killed, was also a faculty member at Tari Mangal High School and was en route to perform examination duty at the school.
Following the incidents, emergency measures were implemented in hospitals throughout the district. Additionally, transportation routes were closed for security reasons, and the matric exams organized by the Kohat Education Board, ongoing from April 28, were postponed for an unspecified period of time.
Federal Minister for Overseas Pakistanis Sajid Turi, Secretary of Anjuman Hussainiya Inayat Hussain, and Tehreek Hussaini President Allama Syed Tajamul Hussain condemned the killings of innocent teachers, calling it a heinous act while stressing the need for strict action against the perpetrators, whom they believe are attempting to disrupt peace in the region.
Hits: 27